The Stephen F. Austin State University Lumberjacks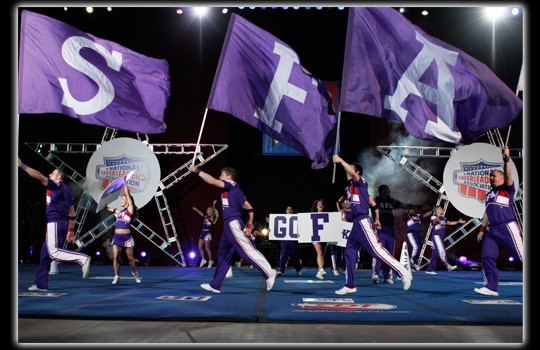 The Lumberjacks are the best of the best, the Yale of college cheerleading. Located in Nacogdoches, Texas, SFA attracts the top college cheerleaders from across the country. Their tumbling is phenomenal, their basket tosses are textbook, and their pyramids are the biggest and most complicated out there. But where the Lumberjacks excel is in partner stunting—at the 2005 NCA Nationals Partner Stunt Championship, SFA couples placed first, second, and third. No other team comes close. The Lumberjacks have eight national titles under their belt—in fact, they've won the past four years running. Cheer! chronicles their quest for their fifth National Championship in a row. But when their legendary coach resigns over the summer, will the team crumble?
Trisha O'Connor


Head Coach
Hometown: Arlington, Texas
Fact: Can still do a mean basket toss.

Doug Daigle


Base/Assistant Coach
Hometown: Lake Charles, Louisiana
Fact: Beginning his eighth year as a college cheerleader.

Sierra Jenkins


Flyer
Hometown: Arlington, Texas
Fact: In the eight years she's gone to Nationals with school teams, she has never lost.

James Brown


Base
Hometown: Springfield, Missouri
Fact: Played football at Missouri Southern University for a year. Also ran track and wrestled.

Samantha Frazer


Flyer
Hometown: Spring, Texas
Fact: Drives a big, white pickup truck.

Kali Rae Seitzer


Tumbler
Hometown: Charlotte, North Carolina
Fact: One of the best female tumblers in the country.

Tyrone Lyons


Base
Hometown: Del City, Oklahoma
Fact: Can lift the end of his car.

Ashley Picard


Flyer
Hometown: Boston, Massachusetts
Fact: Brings her Chihuahua, Bitsy, with her everywhere she goes.

Yvette Quiñones


Flyer
Hometown: McAllen, Texas
Fact: Wants to get "LCLM" tattooed on the inside of her lip.