The University of Memphis All-Girl Tigers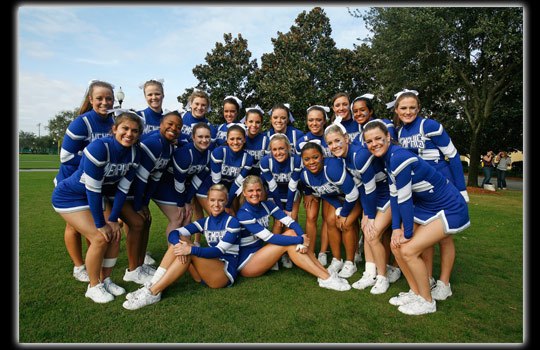 The University of Memphis All-Girl squad is a new team—created just four years ago, they brought home the National Championship trophy their first time appearing at UCA Nationals. They have since established themselves as one of the best All-Girl teams in the country. In All-Girl cheerleading, groups of women traditionally base stunts. But several Memphis bases are so strong that they can lift a flyer on their own. They are one of the teams nudging the bar for All-Girl cheerleading higher and higher. Still, some of the Memphis women feel like the forgotten step-children to the school's Coed team. Will they be able to perform at Nationals and get the respect they deserve?
Carol Lloyd


Head Coach
Hometown: Memphis, Tennessee
Fact: Loves motivational slogans like, "If you don't think the grass is green, you might be the one making it brown."

Kristen Murdock


Back Spot
Hometown: Memphis, Texas
Fact: Was almost cast on the Mickey Mouse Club.

Casi Davis


Base
Hometown: Kennesaw, Georgia
Fact: Gets annoyed that the Memphis Coed squad receives full scholarships while All-Girl cheerleaders get $500 a semester.

Courtney Powell


Base
Hometown: Memphis, Tennessee
Fact: Is the team jokester.

Ashley Chambers


Back spot
Hometown: Cordova, Tennessee
Fact: Does a great imitation of the University of Memphis's Spirit Coordinator.

Monica Moody


Flyer
Hometown: Dyersburg, Tennessee
Fact: Plays on the cheerleaders' tournament-winning flag football team.

Kristen Kern


Flyer
Hometown: Memphis, Tennessee
Fact: Thought that she'd retire from cheerleading this year.

Callee Jackson


Flyer
Hometown: Memphis, Tennessee
Fact: Tapes her shoelaces in a ball for competition so they can't come untied.